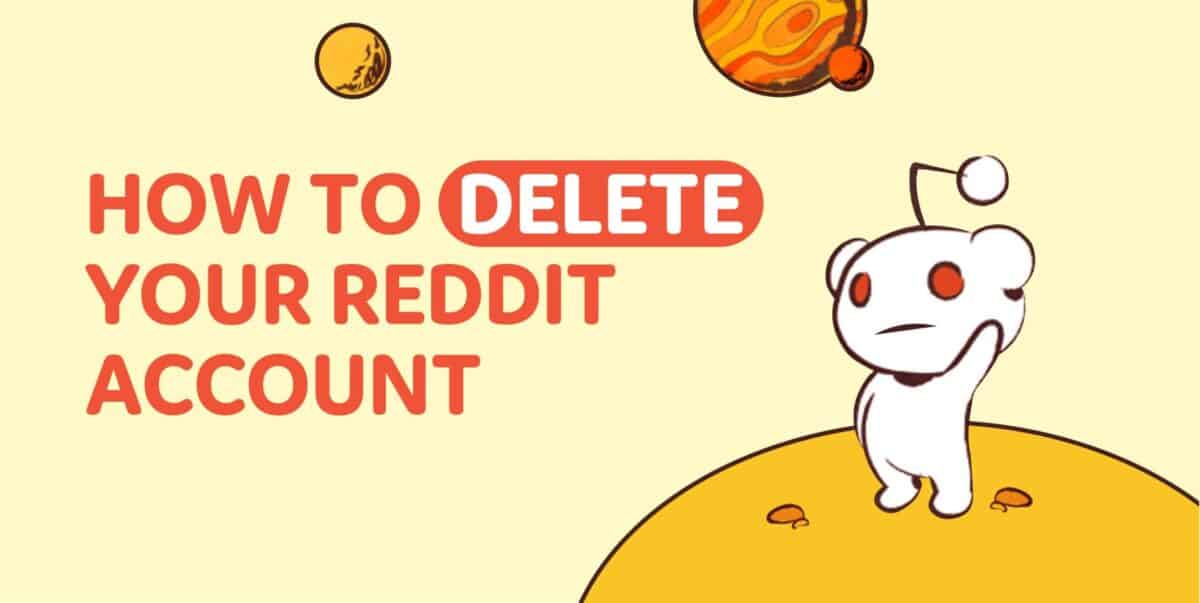 How to Delete Your Reddit Account in Less Than A Minute
Is Reddit taking over your life – or are you concerned that a loved one may have an unhealthy relationship with the platform? While it's a great place to find out information about absolutely anything, or discuss your favorite video games with likeminded people, it can be difficult to know when to stop scrolling.
Reddit is the most addictive social media website – at least for me, anyway. I've tried everything to stop wasting time on Reddit before, including blocking subreddits and even individual users who would always keep me coming back. It got so pathetic I even tried to enable Reddit parental controls as an adult.
We understand the constant pull back to subreddits because we've felt the urge ourselves, and helped many other redditors whose work, education, relationships and health were suffering.
In this article, we explain how to delete a Reddit account and answer some frequently asked questions about the platform. Within less than a minute you'll have finally deleted your account, and can go back to doing things that actually mean something to you. It's time to become productive again.
Step-by-step instructions for deleting your Reddit account
Follow these simple steps to discover how to delete a Reddit account:
Step 1: Go to User Settings on Reddit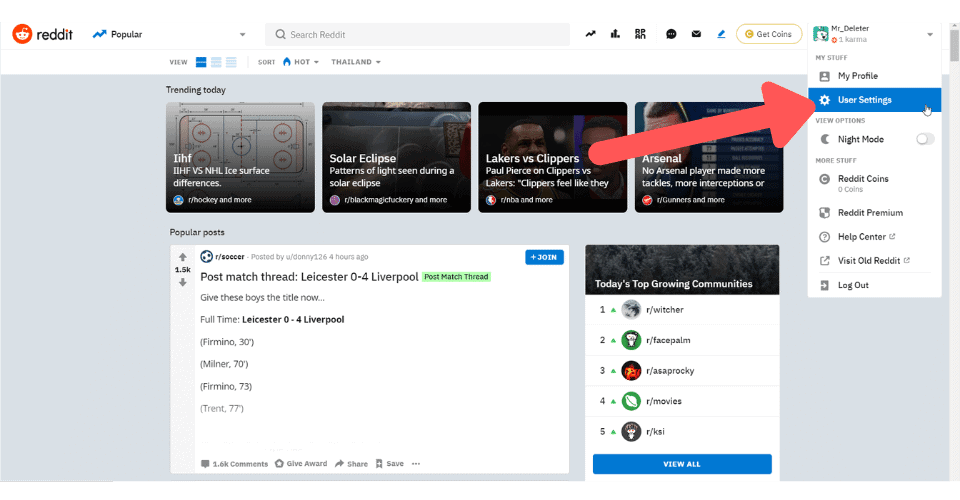 Log onto Reddit and navigate to the 'User Settings' area on the sidebar at the top-right of screen.
Just log on and navigate over to the "User Settings" area on the sidebar at the top-right.
Step 2: Click Deactivate Account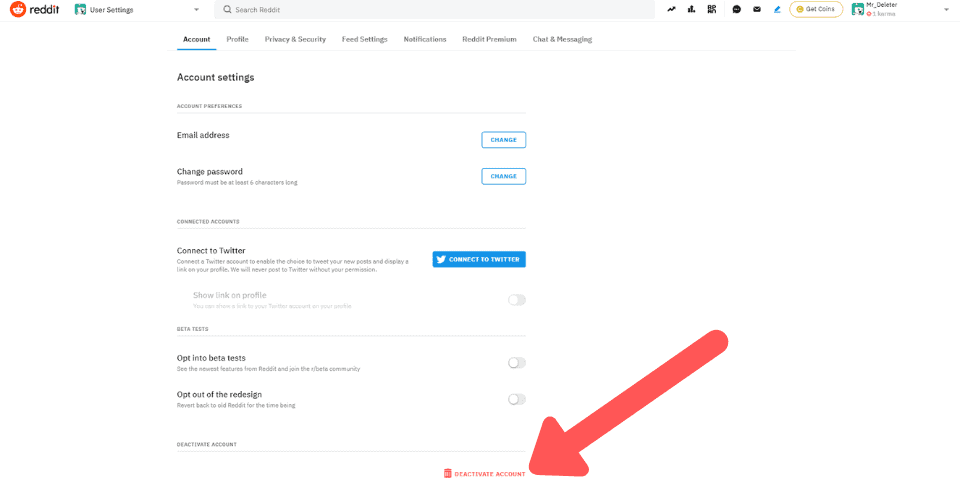 The only difficulty you might have is finding the link. You have to scroll down the page to see it. Click the button that says 'Deactivate Account', and a screen will pop up. (Please note that to delete a Reddit account is exactly the same as to deactivate Reddit account.)
Step 3: Confirm Reddit Account Deletion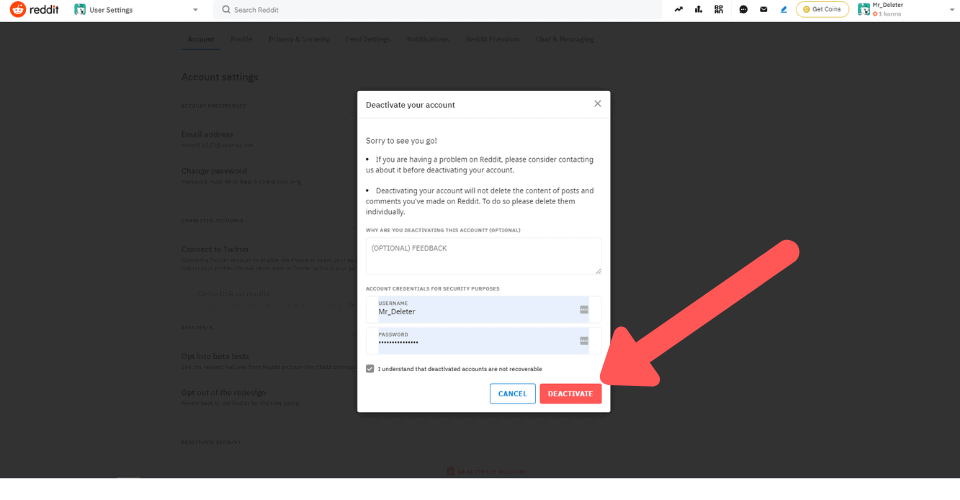 Finally, click the deactivate button and confirm your decision to delete your Reddit account. That's it. You're done.
After you've removed Reddit, you can take comfort in the knowledge that you're no longer going to waste any more time pretending to absorb facts or catch up on the latest memes.
You can take comfort in the knowledge that you're no longer going to waste any more time pretending to absorb facts or catch up on the latest memes.
Common questions we're asked about Reddit
We often receive questions about Reddit on our community forum and parent support group. Unsurprisingly, people of all ages are struggling to control their use of the platform. Here are some of the most common questions we receive:
Can I delete my Reddit account on the app?
Yes – here's how to delete Reddit account on app instructions:
Click on your avatar to open your profile menu.
Choose 'Settings'.
Under 'Support', click 'Delete account'.
What can I do to stop myself using Reddit so much?
If you're not ready to quit the platform completely, try to do other things to regain some balance in your life. Spend more time with friends and family, take up a new hobby and find other ways to stop wasting time on Reddit.
How do I know if I'm addicted to Reddit?
Check out the common signs of Reddit addiction to see if you may have a problem and find out how to reduce your dependency on the platform.
How can I stop myself reinstalling Reddit?
If you're worried that you may get the urge to scroll through Reddit the next time you're bored, we recommend installing a blocker to prevent you from visiting the platform in future.
Are there parental controls on Reddit?
It is possible to set up Reddit parental controls to help keep your kids safe from online predators, cyberbullying and inappropriate content. You could also introduce screen time restrictions to stop your family spending hours online each day.
Will deactivating my Reddit account delete my posts and comments?
No, deactivating your account via the web browser or app will not remove any posts, comments or private messages. To delete your data before you deactivate your Reddit account, visit the Reddit website for more information.
Need help?
If you or someone you care about are struggling to control your Reddit use, we can help. At Game Quitters we have lived experience of wasting hours and hours on the platform. We know it's possible to quit and fill your life with more interesting and fulfilling activities.
Get in touch to discuss how we can help you – we're used to dealing with people who are addicted to Reddit but in denial.
Book a call to talk about your situation. Please note that limited spots are available.