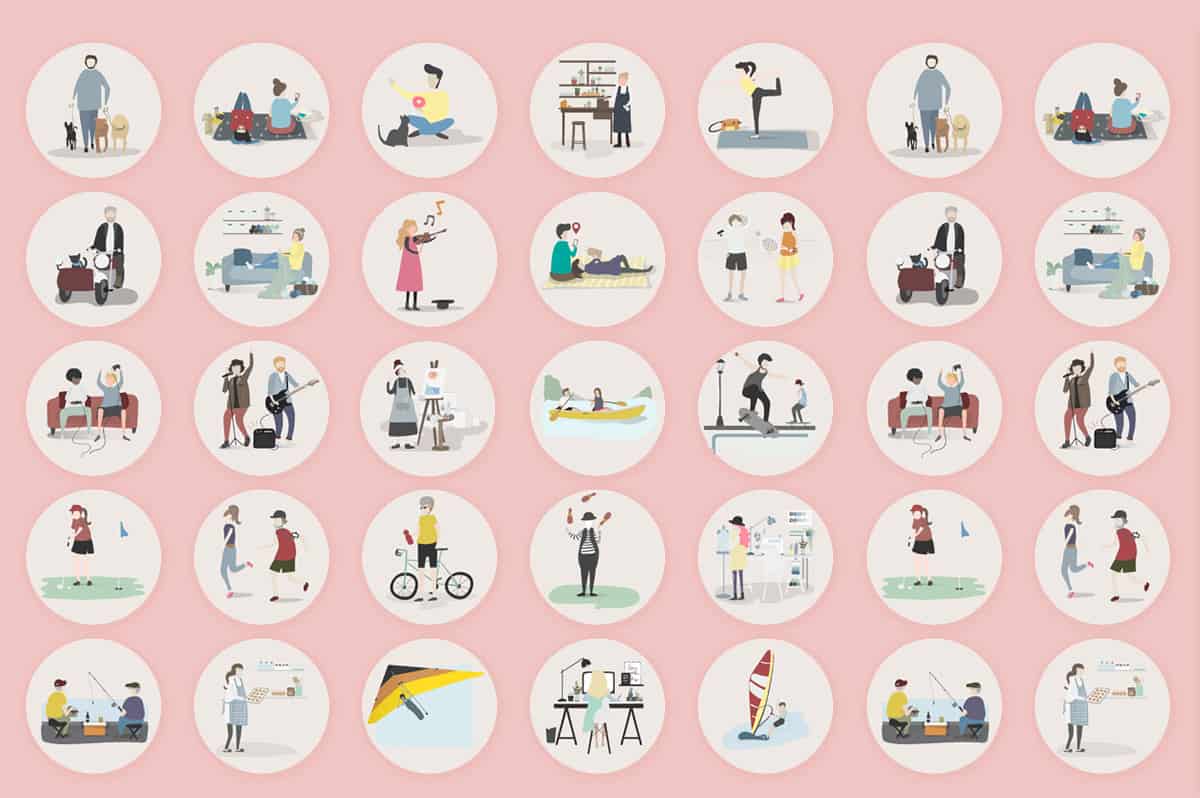 50 Best Screen-Free Activities by Age
We are often contacted by parents who are concerned that gaming is taking over their child's life. However, there are many positive aspects of video games when they are played in moderation. It's all about balancing screen time with other hobbies and interests.
This article explains how to help your child develop healthy gaming habits and gives screen-free activity examples that will appeal to kids of different ages including toddlers, kids, tweens, teens and adults.
Gaming or tech use out of control? Get immediate help for you or your loved one's problem. Book a free Gameplan call now to learn if our program is the right fit for you.
What is healthy gaming?
Healthy gaming is when your child has a good gaming-life balance. They are physically active, socialize offline with friends and family, prioritize schoolwork and have other hobbies apart from playing video games. When the balance tips and gaming starts to take over, your child is likely to develop unhealthy habits – they may skip school, neglect their personal hygiene, eat junk food, wake up in the night to game and drop activities they used to enjoy.
To help your child develop and maintain healthy gaming habits, talk to them about what motivates them to play video games. Our 15 Reasons People Play Video Games article will help you steer the discussion. If you understand why your child likes gaming so much – for relaxation, escapism, excitement, competition, socializing – it will be easier to help them find non-screen activities to fulfill those needs.
Check out our screen time guidelines which advise that toddlers should avoid all screens except video calls, kids aged 2-5 years have one hour of screen time per day, no more than two hours of daily screen time for 6-12-year olds and the same limit for teenagers (excluding school use). To encourage healthy gaming habits for kids, it is important to set and monitor screen time limits at home. Your child may ask: "How can I have fun without screens?" or even "What are non-screen activities?" We have plenty of ideas to inspire them.
Screen-free activities by age
So, how do you entertain kids without screens in our tech-centric world? Here are some suggestions for toddlers, younger children and teens:
Screen-free activities for toddlers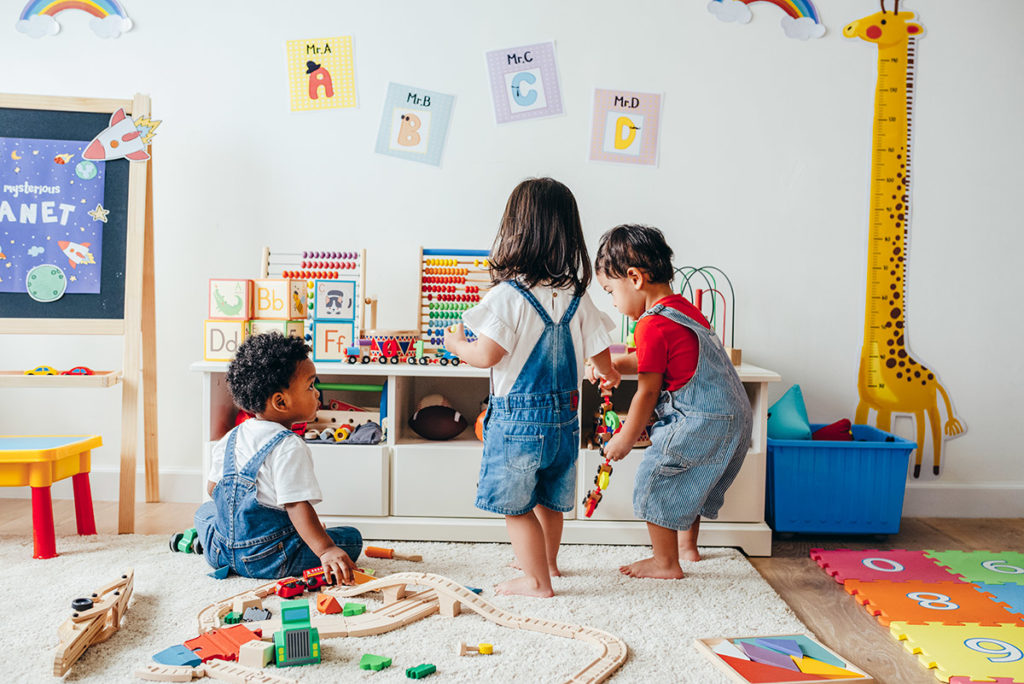 Singing songs and nursery rhymes – Young children love music and movement. Singing songs and nursery rhymes together is a great way for them to develop their language and communication skills. See if there's a baby rhyme time at your local community center or library.
Read to your toddler – Listening to stories will give your toddler a feel for the sounds and rhythms of language. Looking at the pictures will stimulate their imagination. A book before bedtime – or any time of the day – is also good for their emotional well-being.
Sensory board – A sensory board (also known as a busy board) will give your toddler hours of entertainment and help develop their fine motor skills. Attach everyday household items to a large board – buckles, zippers, knobs, handles, wheels, flaps, locks— the options are endless.
Playdough – Whether you buy it or make your own (and the ingredients are very cheap), playdough gives toddlers the opportunity to get creative and develop their hand-eye coordination. It also improves dexterity in their hands and fingers, which is useful for learning to write and draw as they get older.
Painting – Toddlers enjoy finger painting, potato printing, marble rolling, leaf painting and just unleashing their creativity on a blank sheet of paper. Not only is painting fun, but it can also help to develop concentration, and hand-eye coordination and control. Playing music as they paint will create a calm and relaxing environment.
Hide and seek – If your child has been sitting in front of a screen, it's a good idea to choose an activity that will get them moving. Hide and seek also encourages them to use their imagination and helps develop problem-solving skills as they work out where their friend, sibling or toy is hidden.
Obstacle course – This is an activity that will help your toddler burn off some energy inside or outdoors. Find objects they can run to, jump over, crawl through, walk on and wind their way around. Take turns so that they can practice understanding and giving instructions.
Playing with water – Toddlers love playing with water – in the bath, paddling pool or plastic bowl. Use bottles, funnels, jugs, straws, spoons, tubes and anything else that is unbreakable. Never leave a young child alone when playing with water – they can drown in less than 5 centimetres (2 inches) of water.
Dressing up – This is a perfect rainy-day activity. Dressing up doesn't always need to involve expensive, shop-bought items. Create a collection of old hats, scarves, shirts, dresses and other accessories and props. In pretending to be different characters, your child will develop their imagination and be able to express their emotions.
Hands-on games – Engaging your toddler in hands-on games – such as threading cotton reels on string, stacking blocks, sorting shapes and doing simple jigsaw puzzles – is not only fun, but it will also the help develop their problem-solving and fine motor skills.
Screen-free activities for 2-5-year-olds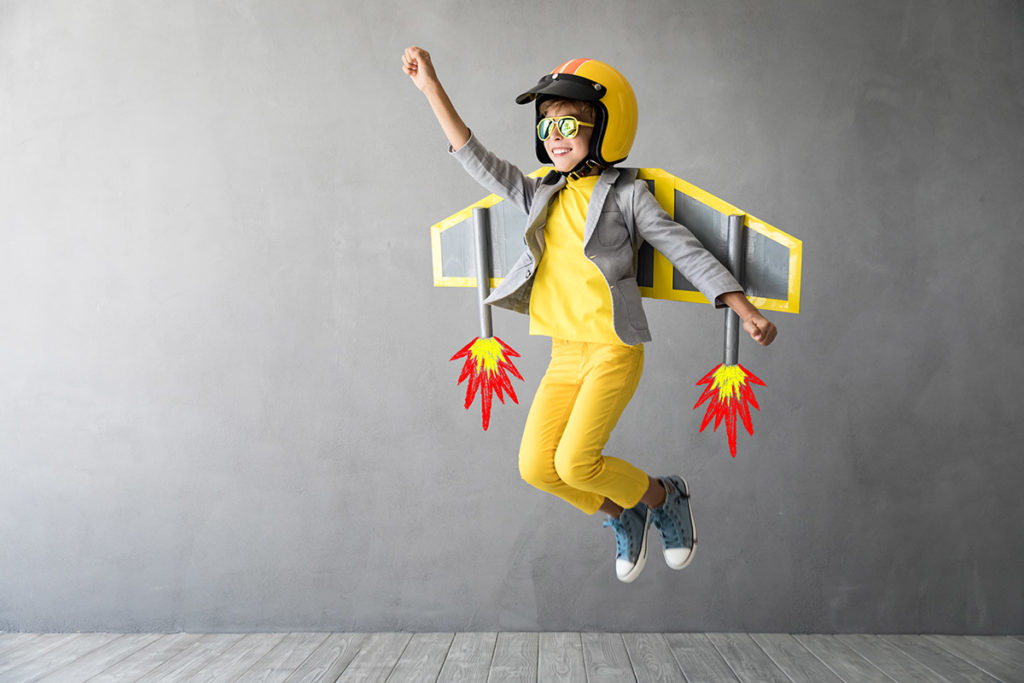 Exploring outside – If your child is reluctant to switch off the screen, getting outside is a great distraction. Whether you visit the local park or go for a walk in the woods, they will love having the freedom and space to run about. Getting outdoors will help develop their independence and self-confidence.
Den building – Kids love video games that offer action and adventure. Building a den will give them the chance to have their own adventure. With just a few sheets, blankets, and cushions they can be transported from their home to another world. Or they can get busy outside and build a den in the garden.
Role-playing – Try role-playing together in different scenarios such as a shop, hospital, dentist, vet, post office, hotel, building site – or simply pretend to be other characters and have a conversation on a toy phone. Acting out real-life roles builds confidence, creativity and communication skills.
Treasure hunt – If your child is bored, a treasure hunt (also known as a scavenger hunt) is bound to get them excited. It does take a little planning to make clues and hide objects but it's an inexpensive activity you can do at home or outdoors. Plus, it helps develop their problem-solving skills and gets them active.
Memory tray – Put familiar toys and brightly-colored objects on a tray and cover them with a cloth. Give your child one or two minutes to memorize the items. Then, re-cover the items and see how many they can remember. It's a great way to improve their attention, concentration and focus.
Baking – Young kids love baking. Not only is it a fun activity, but they will enjoy a tasty treat at the end. There are lots of simple recipes available online – cupcakes or cookies are ideal. If you don't have the time or inclination to bake, simply buy something ready-made, mix up or buy some icing, and let your pre-schooler get busy decorating.
Coloring – If you're looking for an activity that will keep your child quiet and occupied for a while, coloring is a good choice. There are plenty of low-cost coloring books available and online printables that can be downloaded for free. Whatever your child is into – dinosaurs, fairies, unicorns, cars, animals – you are bound to find something they like.
Puppet making – Help your pre-schooler make a hand or finger puppet out of a sock. All you need is some paper to stick on as eyes, nose, mouth and ears. You can then use it for role-playing games, hide and seek or you could even make a little theatre and put on puppet show for friends and family.
Create a collage – This simple craft activity involves pasting pictures from newspapers and magazines, photos, pieces of material or leaves onto a sheet of paper. Creating a collage will help kids at the upper end of the age range practice their cutting skills. It's also a fun way to develop your child's awareness of colors and texture.
Make musical instruments – Noisy activities are always popular with young kids. It's easy to make musical instruments out of things you have at home. For example, an empty plastic bottle filled with rice or pasta makes a great shaker or use a tin can, cardboard box or saucepan to make a drum.
Screen-free activities for 6–12-year-olds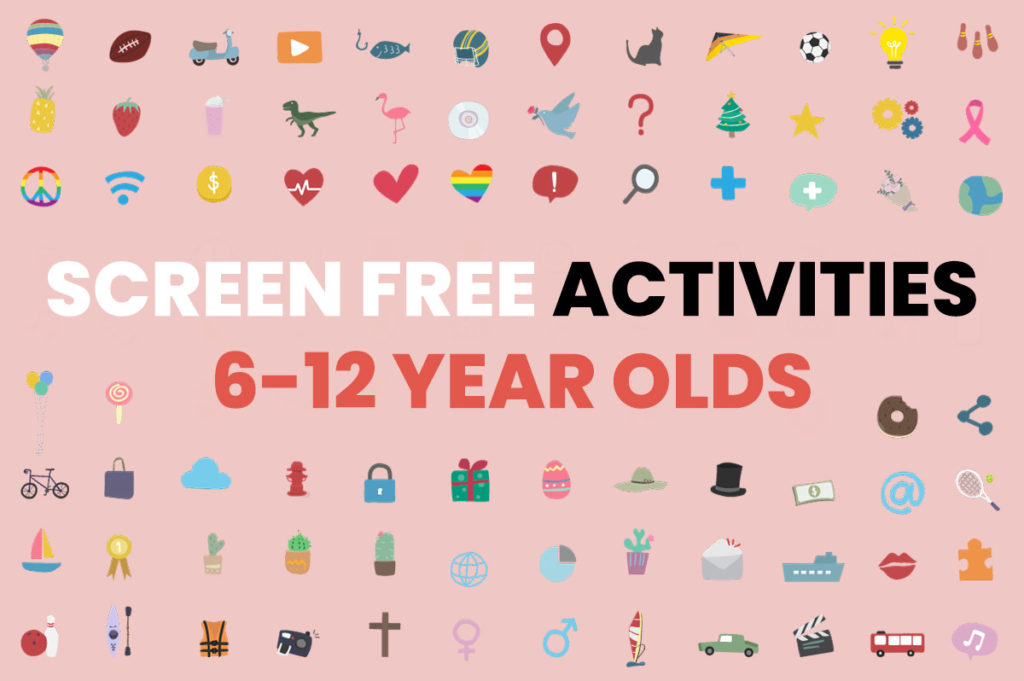 Reading – If your child plays video games for escapism and excitement then reading is a great way to get them immersed in other worlds and adventures. Make sure they read physical books, not online ones, for a break from digital devices.
Geocaching – There are several video games that involve searching for hidden treasure. Geocaching is an exciting, offline alternative. Simply download the app and your kids can follow clues to find containers hidden in different locations. It's fun, exciting and gets them outside and active.
Mountain biking – If your child likes adventure, mountain biking is an ideal activity. Get them involved in planning a route and explore different places on two wheels. It's great for family bonding and/or socializing with friends. Plus, there are multiple physical and mental health benefits.
Martial arts – There are many popular martial arts video games so encourage your child to learn the skills themselves. There are different types to choose from – including Karate, Tae Kwon Do and Judo – whether they want to have fun, learn self-defense, be competitive or make new friends.
Skateboarding – While skateboarding will get your child offline and outside, it has several similarities to gaming: the freedom to explore, learning new tricks, being in the moment and hanging out with like-minded friends. Plus, skateboarding releases endorphins in the brain which can reduce stress, anxiety and depression.
Camping – Whether it's building a den in the house on a rainy day or pitching a tent outside, camping is a great way for kids to reconnect with family and friends without digital distractions. New experiences and challenges will stimulate them mentally and physically.
Arts and crafts – Many children play video games to be creative – Minecraft for example allows players to build anything they like. Similarly, art and crafts is an excellent outlet for imaginative ideas and inventiveness. It can also be relaxing, therapeutic and a way to de-stress if there has been conflict in the house because of your child's gaming habits.
Board games – If your child likes the competitive nature of video games then many board games will tick the same box. They are a great option for an afternoon with friends or family with different genres available, from casual to hardcore strategy.
Playing with Lego – Kids enjoy using virtual building blocks in games like Minecraft to create towers, castles and other structures. With Lego they can construct whatever they want out of physical bricks – the only limit is their imagination.
Visiting a theme park – For thrill-seeking kids, the opportunity to visit a theme park is likely to entice them offline. It's a fantastic day out with family or friends and will enable your child to explore, have an adventure and be immersed in a fictional world.
Screen-free activities for teens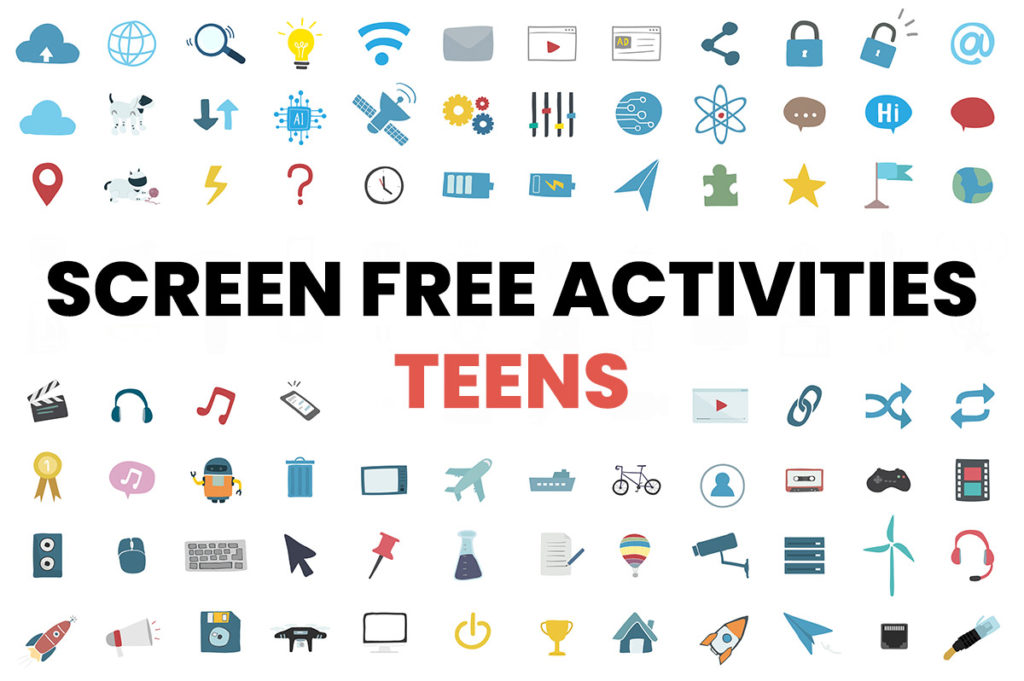 DJing – Music is a form of escapism for many teens so DJing may well appeal as an off-screen activity. Like gaming, DJing offers a way to be creative, sociable and get lost in it for hours. Plus, positive, upbeat music can relieve stress, anxiety and depression.
Casual or extreme obstacle courses – Adventures races like the Color Run, Tough Mudder and the Spartan Race will give teens a similar sense of excitement, competition and adrenalin rush to video games. As well as taking part on the day, they will need to get physically fit which will mean getting offline to exercise in the run up to the event.
Events, concerts and meetups – Encourage your teen to get out of their bedroom and meet new people at local events, concerts and meetups. If there is nothing that appeals to them, suggest they set something up – it could even be a face-to-face meetup with other gamers.
Volunteering – Gaming can be a solitary activity if your teen doesn't enjoy multiplayer games, so volunteering in the local community is a good way to meet other people. It will give them a sense of purpose and help them feel happier and less isolated.
Airsoft/paintball – If your teen loves first-person shooter games (FPS), like Fortnite , Valorant, Counter-Strike and Call of Duty, they will enjoy playing airsoft and paintball. Both are competitive team 'shooting' sports filled with action, adventure and excitement.
Exercise class – Playing video games is a sedentary activity so an exercise class is a good way for your teen to spend time offline. There are many different classes available from pilates, zumba, dance and yoga, to circuit training and bootcamps.
Running – A great way to start exercising and getting outside is running. It is accessible for people of all fitness levels whether your teen begins a couch to 5K program, starts training for a half or full marathon, or simply runs for fun either alone or with friends.
Recreational sports team – Gaming can sometimes be lonely so joining a recreational sports team will help your teen make new friends in a fun and casual way. Check out what is available in your local area – dodgeball, volleyball, softball, ultimate frisbee, bowling etc.
Cooking – When gaming, teens sometimes skip meals or choose junk food as a quick and easy option. That's why cooking is such a useful off-screen activity. They will develop a life skill, learn about healthy eating and it will encourage family mealtimes.
Part-time job – If your teen has a part-time job they will get a regular break from gaming as well as earning money. A job will provide structure in their life outside school, develop their team building skills and boost self-confidence.
Screen-free activities for adults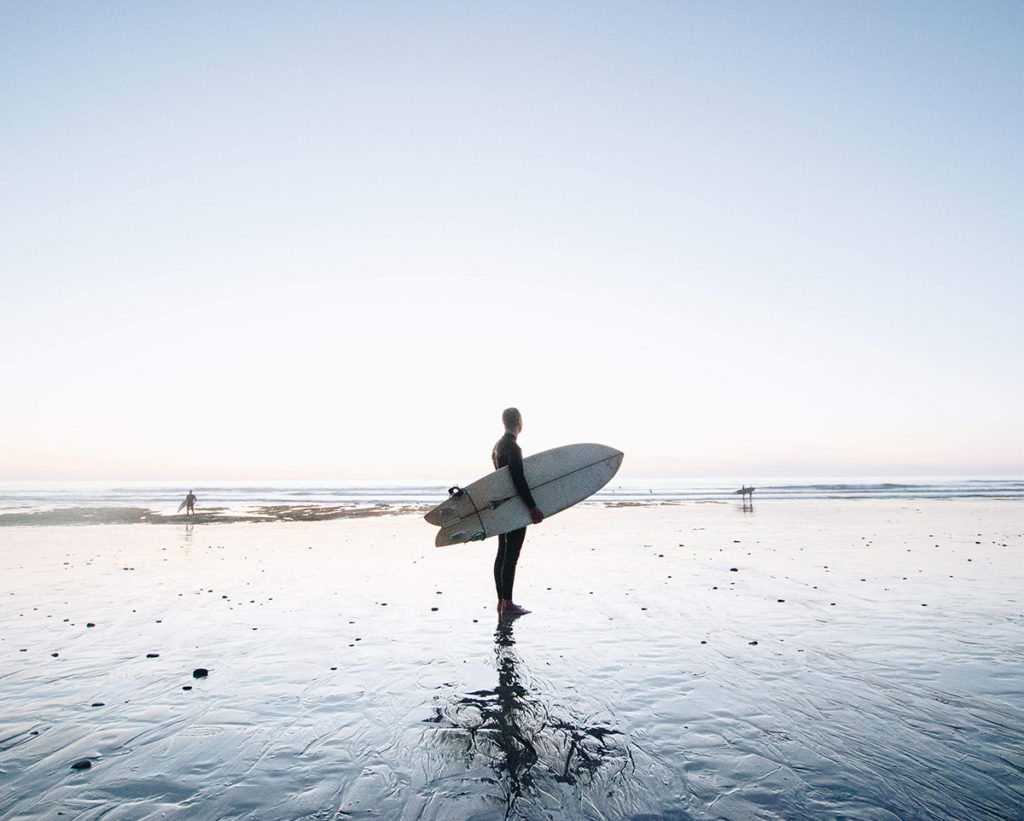 As a parent, it's important to remember that every time you scroll through social media, binge-watch a Netflix series or check messages on your phone, you're setting an example for your child. They are much more likely to embrace other hobbies and activities if you model healthy screen time use. Here are some ideas of screen-free activities for adults:
Learn a language – If you've always fancied learning another language, there has never been a better time. Whether you want to join a class or learn at your own pace at home, there's a wide choice of learning styles and languages available. Have fun, gain confidence and practice your new linguistic skills on your next holiday or business trip!
Join a book club – If you love reading, joining a book club is a great way to enjoy a wider variety of genres, discuss the plots and characters with like-minded people, and expand your social circle. If there isn't a book club near you (check at your local library or book store), consider setting one up.
Listen to podcasts – Whatever you're interested in – current affairs, true crime, comedy, drama, health and fitness – there's a podcast for you. Put on some headphones and listen while you are walking, running or commuting to work. It will help you switch off and relax.
DIY project – Getting stuck into a DIY project will not only save you money, you'll feel a huge sense of accomplishment afterwards. Start with something small, such as putting up a picture or hanging a shelf, and then progress to a bigger project like restoring a dresser or painting a room.
Fishing – If you spend a lot of time sedentary and indoors, fishing has excellent physical and mental health benefits. It is a good form of exercise – you need to use your neck, arm and leg muscles when reeling in a fish. Getting outside also helps you relax and relieves stress, away from the pressures of everyday life.
Start a new sport – Keeping fit and active is a great way to model healthy behavior to your kids. It's easier to stay motivated if you enjoy what you're doing. So, if you're stuck in a rut, why not take up a new sport? Whether you fancy trying golf, tennis, badminton, basketball, swimming or something else, find out what's available where you live.
Join a choir – There are lots of different choirs and musical societies to choose from, so you're bound to find one that appeals. Joining a choir will enable you to meet new people and escape your usual routine. As well as attending regular practice sessions, you'll also travel to different venues for performances.
Cycling – Getting on your bike is a good way to start exercising. Choose the terrain and distance to suit your fitness level. There are also indoor options available – from static exercise bikes at home or the gym, to spin classes which are fairly intense but lots of fun.
Gardening – You don't need a big outdoor space to take up gardening. You could start with some indoor plants, a window box or balcony. If you have a larger plot, it can be great fun planning what you're going to plant – growing your own flowers, fruit, vegetables and herbs can be hugely rewarding.
Group fitness class – Exercising on your own can get boring. That's why group exercise classes like yoga, pilates, zumba, HIIT and circuit training are so popular. Working out with others is good for motivation, you're much less likely to skip a group fitness class than the gym. It's also sociable and enjoyable.
Our hobby tool has more ideas. Feel free to share it with other parents who ask: "How do you entertain kids without screens?" Or "What do you do on your screen-free day?"
Need help?
If you've tried to interest your child in these screen-free activities without success and need help getting their gaming and screen time under control, book a Gameplan call to discuss your situation. Limited spots are available.