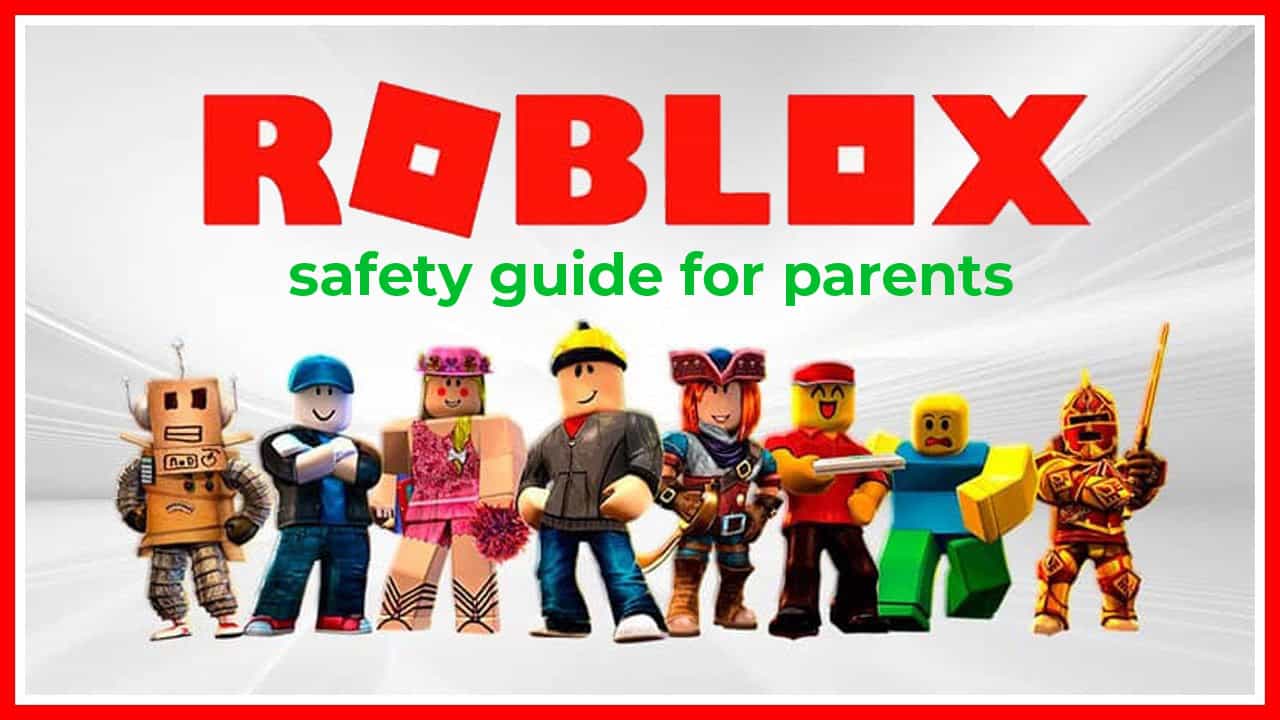 With more than 40 million daily active users, Roblox is one of the world's biggest and most popular gaming platforms. 
The majority of the population that plays Roblox are children aged between the ages of 6 and 16. Up to 67% of all players of Roblox belong to this age category.
Is Roblox safe for kids to play? 
This is an important question that many parents are asking. Since we get this question often from concerned parents, we will address it in as much detail as possible in this article.
What is Roblox?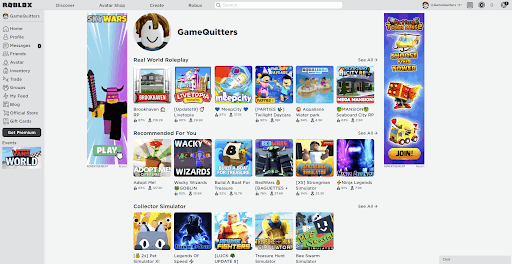 To begin with, let's take some time to explain what exactly Roblox is and how it is played.
Roblox is an online entertainment platform that allows its players to create their games and share them with other users. At the same time, players can play games created by other users, adding a sense of novelty to every game.
The game is available on almost any platform imaginable – Xbox One, smartphones, computers, tablets, you name it.
So the game's goal is to create a game that's as fun as possible, and that gets the attention of as many other users as possible.
The games inside Roblox are always changing since they're created by users constantly. So each day, you could play a new game. This never-ending novelty is perhaps the biggest point of attraction for kids. 
As for what kinds of games are created inside Roblox, you'll find a lot of variety. But almost all games require players to navigate through obstacles and maps created by other users with their character, which can also be quite challenging since you're competing against other players as well.
Why is it so Popular with Kids?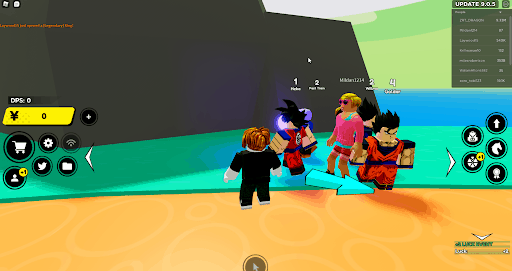 There are several reasons why Roblox is so popular with kids.
It allows you to connect with other players.

 Roblox is a social game where players connect, try each other's games, and make new friends. Many kids also play because their peers play Roblox.

It is free to play

. The base game is free to play, but there's also an in-game currency called Robux, allowing players to spend money on in-game apparel and items. We'll talk more about this later on.

Never-ending novelty

. There are always new games to try because they're created daily by other users. The game's design never feels boring because there's always something new for you to try. 

Competitive

. The game can be quite competitive since you're playing against other users to get the best score possible on a particular map.

You can get creative

. Another reason why Roblox is so popular with kids is because it allows them to be creative when they create their games. When played in moderation, Roblox can bring some positive effects on your kid's creativity. Also, the better the game is, the more users will play it, which gives users an incentive to keep creating new games.

Customization

. Each player can customize their character to their liking. This allows users to use different costumes for their characters as they play the game. However, this can be a double-edged sword since many of these customizations can be paid with real-life money through Robux.
Is Roblox Safe for Kids?
Now, to the question that many parents are asking: is Roblox safe for kids?
Roblox is generally safe for kids, provided that parents do everything possible to control their child's activity in the game. 
But we often get questions from frustrated parents that want to know how to stop their kid from playing Roblox. First, you need to know that Roblox is an addictive game for the reasons we've mentioned above, so as a parent, you'll want to make sure that your kid plays Roblox as safely as possible.
The game is available on every platform imaginable so that kids will have access to the game almost anywhere. And even though the official age requirement for playing the game is 13+, there are little to no controls for checking the age of players. This allows players that are even younger than 13 to play the game.
You'll need to make sure that your child's consumption of Roblox doesn't lead to an addiction. Unfortunately, children are more susceptible to becoming addicted to this game. This is why, as a parent, you'll need to have control over your child's usage of this game, or else it could easily become an addiction – and there are other dangers as well.
If you're interested in how to make Roblox as safe as possible for your kid, then read on. We'll address this later in the article.
Now, let's take a look at how Roblox can be potentially dangerous for children. This is crucial to help you understand the potential pitfalls of this game and how you can avoid them.
How Roblox Can be Dangerous for Kids
There are many ways Roblox can potentially be dangerous to kids if you don't control the use of the game.
Social interaction with unknown people

 – now, you might be thinking that social interaction in an online game can not be that bad. After all, your child will be meeting new friends and meeting up with existing ones. That's great, but sometimes, these interactions can lead to unwanted events. Many 

scammers

, predators, and others are looking to take advantage of the naivety that some children who play these games still have.

In-game currency – Robux, the in-game currency of Roblox, is used to purchase customization items and other types of features inside the game. More than $

1.5 billion

 has been spent on Robux up until 2020, and the spending is only increasing. The need to spend real-life money on Robux is amplified by influencers and YouTubers who brag about spending thousands of dollars on Robux to get some advantages in the game. And children are more susceptible to spending Robux, so you'll want to control your child's spending rigorously in Roblox.

Addictive nature – Roblox is addictive. We get messages from concerned parents all the time complaining about how much their children play Roblox. It's easy to get sucked into the game for hours on end since there is a never-ending novelty. There's always something new happening inside the game.
Inappropriate content for underage kids – some of the in-game content is inappropriate for children under 16. This might be primarily because of the sexually explicit nature of the content. Even though the game is meant for children over 13, many types of content are not suitable for children.
Bullying and toxic nature of the game – lastly, we must also mention the possibility of bullying in Roblox. Children experience bullying in games like Roblox, so you must report bullying immediately if you see it. 
Combine all these things, and you get a potentially dangerous mixture of unwanted features of Roblox. While the game might seem harmless on the surface, there are many hidden facets of the game that only get uncovered if the game is played consistently and for longer periods.
Not only can Roblox be addictive, but it can result in other problems, as well. First, there's the danger of socializing with strangers, which can expose your child to scams. Second, the in-game currency might tempt your child to spend your hard-earned money on in-game purchases, which you can swiftly avoid by blocking all such transactions.
How to Make Roblox Safe for Kids
If you want your child to enjoy Roblox safely without having to worry about Roblox addiction or other pitfalls that come with this game, then you'll want to make the gaming environment as safe as possible for your child.
These are the main techniques that you can use to make Roblox safe for kids.
Know the Dangers of Roblox
The first thing you'll want to do is make sure that you know how Roblox can be potentially dangerous to your child.
Playing any game excessively can lead to an addiction, but Roblox is potentially even more addictive than other games for children.
Knowing how Roblox can potentially be dangerous for your child is important since you'll be able to stay one step ahead of your child and the dangers of Roblox.
Use Parental Controls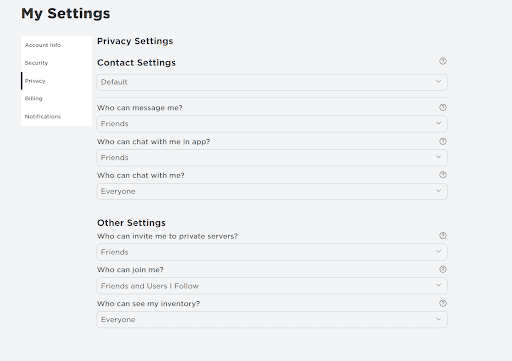 For this, you'll need your child's login information to access the parental controls. The most important thing is having the login information, which will allow you to make Roblox safer for your child.
Once you know the login information, follow these steps to use the Roblox parental controls:
Log in to the Roblox account in question

Click on the gear icon in the top right corner

Click on Settings, and then go to privacy

Change the Contact and Other Settings to make your child's usage of the game safer.
Here, you'll be able to change who your child interacts with inside the game, who can message them and chat with them, and who your child can contact. This is important to avoid potential scammers or bullies inside the game.
You can also enable the account PIN under the Security page. This PIN will prevent your child from making changes to the account that you don't want them to make, such as the changes to parental controls.
Monitor Your Child's Account Regularly
Another important step is to monitor the account regularly to ensure that everything is as safe as possible.
The most important areas of the account that you want to check include:
Chat and friends

Private messages and group messages

Friends and followers

Items and transactions (Transaction history in particular)

Games, sounds, and other items inside the account

Games played recently
Check all of these areas of the account regularly to see if there's something unusual going on. Checking this at least once a week will let you stay on top of your child's consumption of Roblox, and you'll be able to avoid the pitfalls of Roblox before they happen.
Alternatively, you can make sure to check these settings even more frequently, which is even more important if you notice signs of Roblox addiction in your child.
Read our guide on In-Game Spending: Tips to Keep Your Family Safe
Restrict the Playing Time
You'll want to make sure that your kid doesn't play Roblox too much. According to the American Academy of Pediatrics, children between the ages of 6-16 should not be allowed to use their screen for longer than two hours for entertainment daily.
So if you want to make sure that your child doesn't develop a Roblox addiction, you'll have to monitor your child's Roblox playing time.
This means that you will have to limit Roblox usage to two hours a day at most, which can be quite tough since the game is available everywhere.
The best way to ensure this is to encourage your child to find other replacement activities such as hobbies.
With these hobbies, you will be able to fill the time for your child that they would otherwise spend playing Roblox. It's best to encourage active hobbies where your child can get creative and meet other children simultaneously, which are all features that Roblox offers for gamers.
Need Help with Making Roblox Safe?
If you're a concerned parent of a child that plays Roblox (or wants to play it), we can help you out. We've prepared a full guide on keeping your child safe from various gaming addictions, including Roblox addiction. To do that, we've created an in-depth program with scientifically backed resources called Reclaim.
On our site, we also offer hundreds of additional resources that you can use to help you deal with Roblox and other gaming addictions. This includes free articles, videos, and guides that you can use to help you and your family cope with the gaming addiction.
In addition, we also offer other guides, resources, and courses that might interest you:
If you're a mental health professional and would like to learn more about gaming addiction, check out INTENTA's gaming disorder training for professionals.