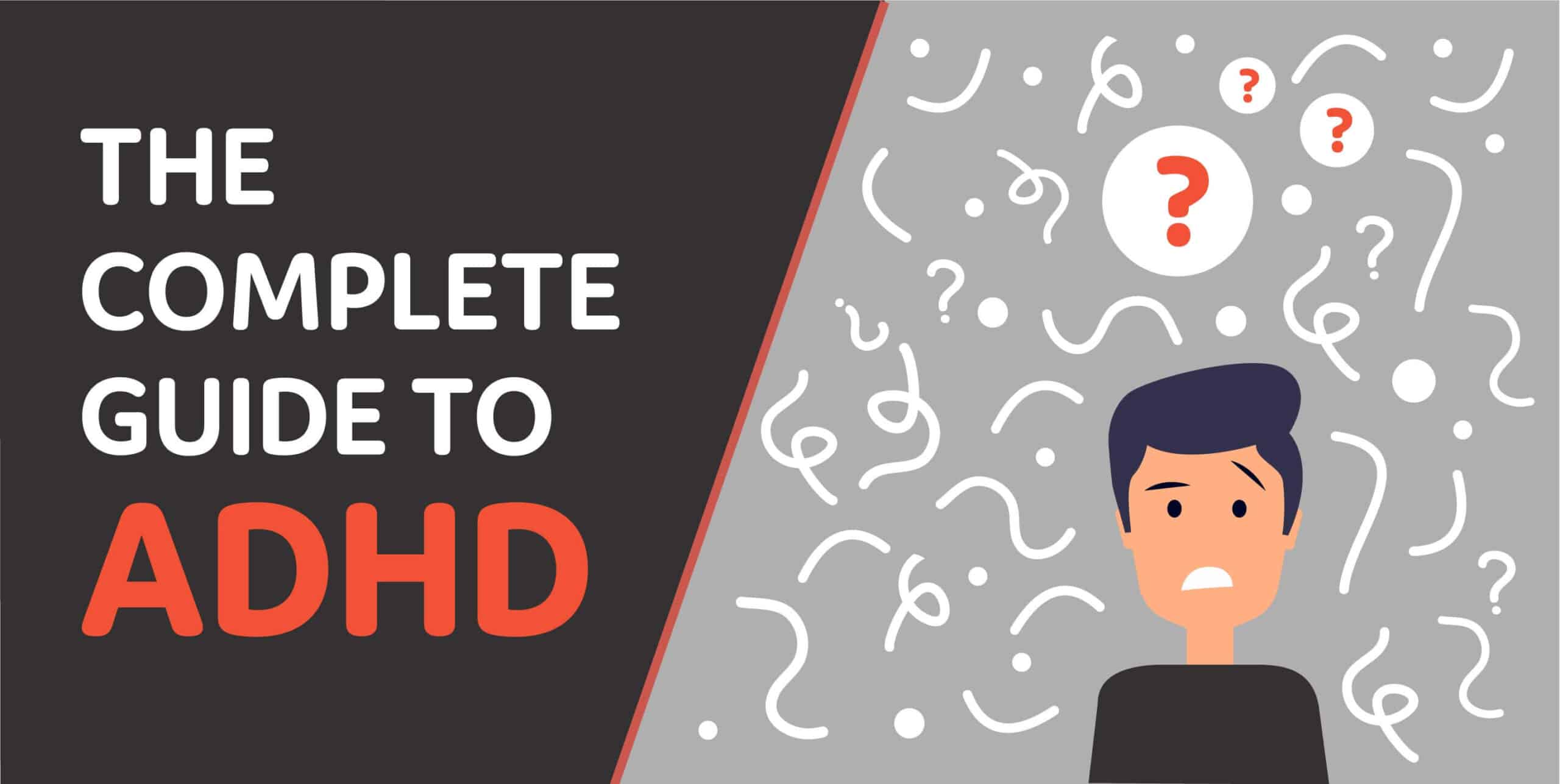 ADHD: A Complete Guide for Parents
ADHD affects millions of families all over the world. In fact, 1 in 10 children between 5-17 years old gets diagnosed with the condition 1 1. Health conditions among children under age 18 years, by selected characteristics: United States, average annual, selected years 1997–1999 through 2015–2017. (2018). Health, United States, 1–4. Retrieved from https://www.cdc.gov/nchs/data/hus/2018/012.pdf × . It leaves parents struggling, not fully understanding how to cope with the disorder, especially because so little has been known about it for so long. Fortunately, we know a lot more about it now than we did 20 years ago.
Research is constantly being done on how to treat ADHD, what causes it, and its relationship with other disorders such as depression and video game addiction.
If you're a parent having difficulties with an over-active and inattentive child, the resources provided in this article will help you learn more about the disorder, and start taking the necessary steps in understanding how to overcome the problems that it brings.
What is ADHD
Also known as Attention Deficit Hyperactivity Disorder, ADHD is a neurological condition that manifests as an ongoing lack of concentration and hyperactivity. It can affect a person's ability to sit still or focus on a single task for long periods of time.
A certain degree of these symptoms are normal for most children. However, the behaviours exhibited by ADHD will likely cause those affected to stand out above their peers. Also, it can affect adults, but in general, the diagnosis will be given early on in childhood before the age of 12.
What Causes It?
Researchers all over the country are investigating the causes of ADHD. The National Institute of Mental Health (NIMH) has listed the following as potential causes:
Genetics
Smoking and alcohol consumption during pregnancy
Exposure to toxins, such as high levels of lead, at a young age
Low birth weight
Injuries to the brain 2 2. Mental Health Information. (n.d.). Retrieved from https://www.nimh.nih.gov/health

×
In most cases, it seems as though genetics is the most likely cause of ADHD – accounting for 75% of risk 3 3. Demontis, D., Walters, R.K., Martin, J. et al. Discovery of the first genome-wide significant risk loci for attention deficit/hyperactivity disorder. Nat Genet 51, 63–75 (2019). https://www.nature.com/articles/s41588-018-0269-7 × .
Another source highlights the link between the amount of grey matter present in the brain and those struggling with the disorder 4 4. Bonath, B., Tegelbeckers, J., Wilke, M., Flechtner, H.-H., & Krauel, K. (2016). Regional Gray Matter Volume Differences Between Adolescents With ADHD and Typically Developing Controls: Further Evidence for Anterior Cingulate Involvement. Journal of Attention Disorders, 22(7), 627–638. https://www.ncbi.nlm.nih.gov/pubmed/26748338 × . A reduction in grey matter is linked to problems with speech, self-control, and decision making. Suggesting that people suffering from ADHD have structural differences in their brain compared to those without.
What Are the Symptoms?
When talking about the symptoms of ADHD, we usually split them into two overarching categories:
Inattention
Hyperactivity
Let's break each one into more detail.
Inattention
As we mentioned earlier, it's normal for children to showcase some level of inattentiveness in school. However, those with ADHD can demonstrate any of the following symptoms:
Can't maintain conversations or anything requiring sustained focus such as a lecture or reading a book
More likely to lose or misplace commonly used objects such as school supplies, phones, glasses, or keys
Doesn't act on instructions
An inability to listen while being spoken to
Regularly make simple mistakes at school or in other activities
Difficulties staying organized at home or in their schoolwork
Have a tendency to avoid doing any tasks they know will require ongoing focus or mental exertion
Gets easily distracted, especially with unrelated thoughts, when starting tasks or chores
It can make it incredibly difficult for children to keep up in school when these symptoms arise. Especially if ADHD remains undiagnosed. It can result in the child feeling like they're not good enough and not as smart as their friends. If left unchecked, these negative feelings can eventually evolve into more serious difficulties with anxiety, self-esteem, and depression later on.
Hyperactivity
There are a number of symptoms associated with hyperactivity:
Inability to stay still, especially while seated
Acting inappropriately (running, jumping, climbing) in situations where good behaviour is expected e.g. classroom, meetings, assembly
Can't stay quiet when taking part in activities
Always in motion
Talking excessively
Struggling with normal conversations due to speaking out of turn or interrupting people's sentence
Can't wait their turn
These symptoms of ADHD can oftentimes result in the child getting into trouble, especially in school. The child won't always understand why their actions have consequences, which can cause problems when in public spaces.
Diagnosing ADHD
If you suspect your child might be suffering from the disorder, you should book an appointment with a licensed paediatrician or psychiatrist with experience of ADHD and receive an extensive clinical evaluation. You could also try talking to your child's school counsellor as an intermediate step before going to a specialist.
There are certain criteria that will need to be met before a diagnosis can be determined:
Making sure another health issue isn't causing the problems
The behaviour has been ongoing for an extended period of time
The child's hyperactivity or inattention exceed what's normal for someone their age
Are the symptoms having a noticeable impact on their school and home life
Once your child has been diagnosed, you'll be referred to a specialist or someone with more experience – depending on who gave you the evaluation.
You will then be given guidance on treating ADHD, which can range from medication to therapy.
How to Treat ADHD
When considering treatment options it's worth noting that you won't be able to remove the behaviour entirely, only lessen its effect. Also, different combinations of treatment will work for different people, so don't lose hope if the first thing you try doesn't end up working.
The extent of ADHD treatment generally falls into one of the following categories:
Medication
Coaching
Therapy
School Support
We'll explore each treatment method in further detail below.
Medication
Medicine is the most commonly used treatment method for ADHD. It will either come in the form of a stimulant, or non-stimulant.
Stimulants
Stimulants are more common, as they are the most effective method for treating ADHD 5 5. Jensen, P. S., Garcia, J. A., Glied, S., Crowe, M., Foster, M., Schlander, M., … Wells, K. (2005). Cost-Effectiveness of ADHD Treatments: Findings From the Multimodal Treatment Study of Children With ADHD. American Journal of Psychiatry, 162(9), 1628–1636 https://ajp.psychiatryonline.org/doi/full/10.1176/appi.ajp.162.9.1628 × . They work by increasing the available concentrations of hormones such as Dopamine and Norepinephrine – which control alertness, focus, happiness, and many other bodily functions.
The medications shown to treat ADHD are Ritalin, Concerta, Focalin, Adderall, Dexedrine, and Vyvanse. Under no circumstances should you self-prescribe these medicines before consulting a medical professional.
Also, some side effects may occur as a result of taking ADHD stimulants 6 6. Cortese, S., Holtmann, M., Banaschewski, T., Buitelaar, J., Coghill, D., Danckaerts, M., … Sergeant, J. (2013). Practitioner Review: Current best practice in the management of adverse events during treatment with ADHD medications in children and adolescents. Journal of Child Psychology and Psychiatry, 54(3), 227–246. https://doi.org/10.1111/jcpp.12036 × 7 7. Center for Drug Evaluation and Research. (n.d.). Safety Review Update of Medications used to treat ADHD. Retrieved from https://www.fda.gov/drugs/drug-safety-and-availability/fda-drug-safety-communication-safety-review-update-medications-used-treat-attention × . Some possible side effects of taking stimulant medications are sleep loss, reduced appetite, increased blood pressure, and in very rare cases psychosis, hallucinations, and nerve damage 8 8. Cooper, W. O., Habel, L. A., Sox, C. M, ... (2016). ADHD Medications and Serious Cardiovascular Events in Children and Youth. The New England Journal of Medicine, 365, 1896–1904. Retrieved from https://www.ncbi.nlm.nih.gov/pmc/articles/PMC4943074/ × 9 9. Kraemer, M., Uekermann, J., Wiltfang, J., & Kis, B. (2010). Methylphenidate-Induced Psychosis in Adult Attention-Deficit/Hyperactivity Disorder. Clinical Neuropharmacology, 33(4), 204–206. https://journals.lww.com/clinicalneuropharm/Abstract/2010/07000/Methylphenidate_Induced_Psychosis_in_Adult.8.aspx × 10 10. Mosholder, A. D., Gelperin, K., Hammad, T. A., Phelan, K., & Johann-Liang, R. (2009). Hallucinations and Other Psychotic Symptoms Associated With the Use of Attention-Deficit/Hyperactivity Disorder Drugs in Children. Pediatrics, 123(2), 611–616. https://doi.org/10.1542/peds.2008-0185 × . It's worth noting the more severe problems usually come about due to long-term use of medicine. As a child gets older symptoms will become easier to manage, and the dependency on medication should lessen.
Non-Stimulants
If treatment via stimulants is ineffective or noticeable side effects occur, you may be offered non-stimulant medication instead.
They can improve focus, attention, and impulsivity in a person with ADHD, and may even be given in combination with stimulants. Some examples of non-stimulant medications include Strattera and Tenex.
One of the advantages of non-stimulants is its long-lasting effects. While most stimulant medication stays in the system for 4-12 hours, non-stimulating medicine can last for up to 24. This can be useful if children have long school days, don't like taking medication, or are away from home.
Coaching
ADHD coaching involved assisting the affected individual with matters such as time management, goal setting, and organization.
It's primarily used in the treatment of adolescents and older, as working with children requires the coaching to be done with an active role from the parents. This isn't always practical, and so the preferred approach is to wait until college before introducing coaching as an ADHD treatment method.
It differs from cognitive behavioural therapy by focusing on practical measures such as healthy habits, finances, nutrition, and sleep. Although CBT and coaching share some similarities, therapists are trained in dealing with the underlying emotional and comorbid issues that may be present.
You can find specialists in ADHD in our Professionals Directory
Therapy
Many problems can arise in people struggling with ADHD, and advice from trained mental health professionals such as therapists, psychologists, and psychiatrists can make a big difference in dealing with depression, anxiety, and other interpersonal difficulties.
Cognitive Behavioural Therapy (CBT) is a common and very effective approach that is used in many practices around the world. It involves changing negative thought patterns by implementing short-term goals and removing unhealthy internal dialogues.
School Support
Many schools, depending on your country, will offer help and advice for children struggling with ADHD. It can come in the form of counselling, parent meetings, 1-on-1 support and more lenient schoolwork.
It might involve working much more closely with affected children to ensure they receive the same opportunities as other children and aren't restricted by ADHD and other learning difficulties.
Does Gaming Cause ADHD?
The exact cause of ADHD is unknown, and while the primary factor is thought to be genetic more research is being done into the effect of screens – most notably video games – on children.
Internet Gaming Disorder (IGD) is a common comorbid condition associated with ADHD. As more studies are being done into their relationship, some interesting research is starting to appear.
One recent study done in 2019 showed that people suffering from ADHD shared similar brain activity to those affected by Gaming Disorder 11 11. Han, D. H., Bae, S., Hong, J., Kim, S. M., Son, Y. D., & Renshaw, P. (2019). Resting-State fMRI Study of ADHD and Internet Gaming Disorder. Journal of Attention Disorders, 108705471988302. https://doi.org/10.1177%2F1087054719883022 × . After one year of treatment for both of these disorders, the brain scans looked remarkably alike.
Another set of studies looking into the relationship between internet addiction and ADHD discovered that there's a moderately significant association between the two. Those suffering from IGD were more likely to exhibit more severe symptoms of ADHD, and vice versa 12 12. Stavropoulos, V., Adams, B. L., Beard, C. L., Dumble, E., Trawley, S., Gomez, R., & Pontes, H. M. (2019). Associations between attention deficit hyperactivity and internet gaming disorder symptoms: Is there consistency across types of symptoms, gender and countries? Addictive Behaviors Reports, 9, 100158. https://doi.org/10.1016/j.abrep.2018.100158 × , 13 13. Wang, B.-Q., Yao, N.-Q., Zhou, X., Liu, J., & Lv, Z.-T. (2017). The association between attention deficit/hyperactivity disorder and internet addiction: a systematic review and meta-analysis. BMC Psychiatry, 17(1). https://bmcpsychiatry.biomedcentral.com/track/pdf/10.1186/s12888-017-1408-x × .
To add to this research, we have a surprising number of parents reaching out to Game Quitters for help whose children are suffering from both video game addiction and ADHD. It's impossible to conclude that one directly causes the other, especially as there has also been a number of positive experiences from people using video games to aid in the treatment of ADHD. However, we've found that when parents reduce the amount of time their ADHD-afflicted child spend in front of a screen, the symptoms start to reduce.
One possible explanation for this is due to the over-stimulating, hyperactive, and addictive nature of modern video games. The gaming industry now focuses on making games that are profitable, and this means designing them to be as addictive as possible. They're working with psychologists and high-level specialists to create the most immersive experience possible. If you want to know more about all of the systems and tactics in place to keep you hooked on gaming, read our article about how games are designed to be addictive.
Next Steps
Whether you're an experienced parent that has come here looking for more information about ADHD, or have been coping with the disorder for a long time and are running out of treatment options, it might be worth taking a look at your child's screen use.
While it might seem like an easy solution to dealing with inattention and hyperactivity, there's the possibility that you could be doing more harm than good by allowing them to spend their free time on video games.
If you've noticed your child losing interest in other hobbies or school-life, becoming distant or quick to anger, and prioritising gaming above more important things in their life then there's a chance they could be addicted to gaming.
We've had countless parents thank us for helping to reclaim their child from the virtual world, and while we can't guarantee the same results for you, it's always worth exploring every opportunity you have available.
If you want to learn more and see if your child is suffering from gaming disorder, take our gaming addiction test for parents. It only takes a couple of minutes, is completely free, and could help you better understand some of the behaviours your loved one is exhibiting.
Thanks for reading our parent's guide to ADHD. At Game Quitters we're committed to providing as much information and value as we can to parents, and ADHD has been a much-requested topic for a long time. We'll be constantly releasing new resources to help you deal with this problem, and how to better manage video games in an ADHD household. If you have any questions, comments, or feedback just send us a message and we'll do our best to help.
Finally, if you are a parent struggling with video game addiction, join our parent support group on Facebook. We've got almost 2,000 parents in our close-knit community where you'll be met with support from an amazing group of parents all fighting their own battles.