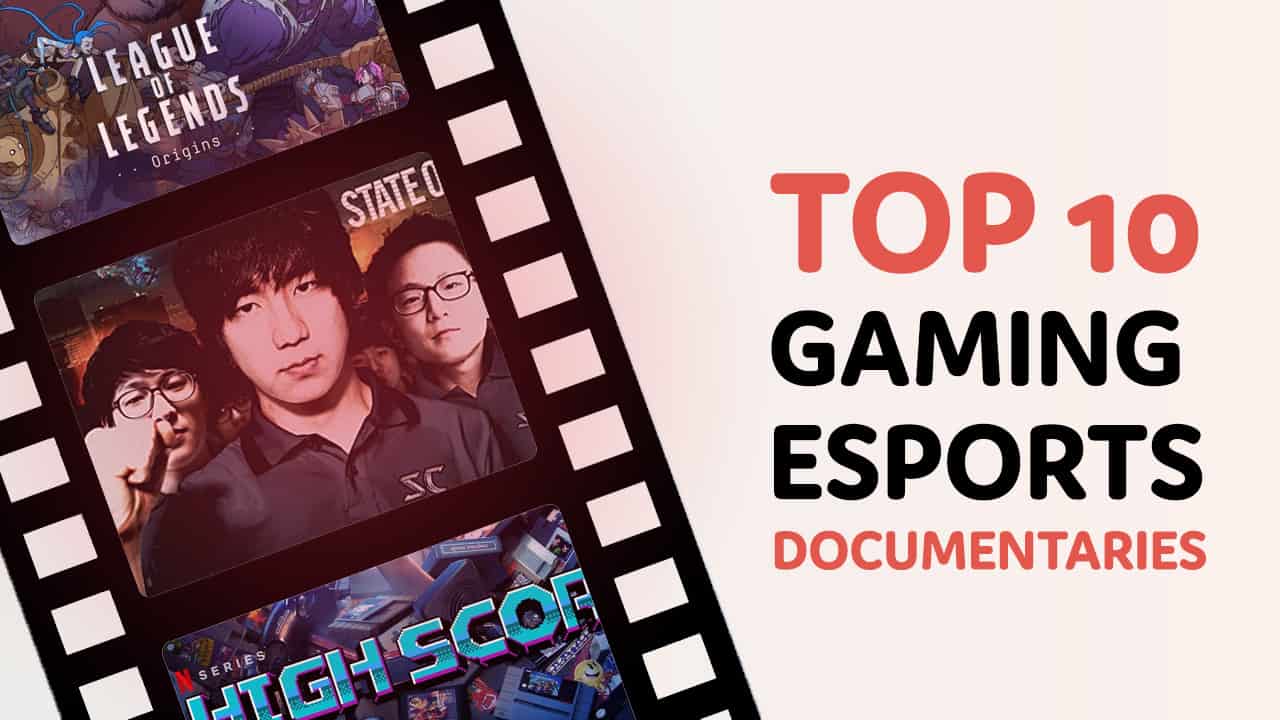 10 Best Gaming and Esports Documentaries
Interest in esports and gaming is rising rapidly each year. 
Just over a decade ago, it seemed impossible there would be a job titled "professional gamer." Today thousands of gamers earn a career in esports, and people worldwide have jobs in the industry at large. Professional gamers achieve stardom by showing their skills as they paint their personality through their playing style, like modern Michelangelos.
As esports and gaming are increasingly popular, filmmakers and investigative journalists have begun covering the phenomenon in documentaries.
This article will showcase the best esports documentaries, the best gaming documentaries, and also documentaries covering video game addiction.
Best Gaming and Esports Documentaries
Free to Play
"Follow three professional video game players as they overcome personal adversity, family pressures, and the realities of life to compete in a $1,000,000 tournament that could change their lives forever."
Free to Play is perhaps the most popular gaming documentary Netflix has to offer. The documentary covers the lives of three professional gamers and paints a more detailed picture of how it is to be a professional gamer these days.
You'll learn about the stories behind these players and how they became popular as pro gamers. You'll also discover that life isn't always easy for them, especially since there's still a stigma towards professional gamers.
The documentary focuses on the game Dota, but even if you don't follow the game, it's still one of the best gaming documentaries out there.
Watch Free to Play here or on Netflix.
State of Play
"Steven Dhoedt's documentary on professional Starcraft: Brood War has three different areas of focus: The life of the game's most successful competitors, the aspiring pro gamer, and the culture of fandom surrounding the top players."
Gaming in South Korea is blowing up. Every year, thousands of Koreans flock to Seoul to watch the best professional gamers from South Korea compete against each other in esports tournaments.
One of the more popular titles for pro gamers in Korea is Starcraft. State of Play documentary dives deeper into the lives of some of the top South Korean professional gamers. It also portrays nicely how professional gaming teams operate and what it takes to become a top professional player these days.
The documentary also covers the struggles professional gamers go through, especially their mental health. You will also learn more about individual players at the top of their field. 
Watch State of Play here.
The Smash Brothers
"Offering an intricate, unfiltered look into seven of the game's most defining players at the time."
The Smash Brothers is a 9-episode gaming documentary series that focuses on the world's most popular and most successful Super Smash Brothers gamers during specific periods of the game's history.
The documentary is an unfiltered look into one of the most popular esports. While the documentary is entertaining, it also provides valuable insights into the lifestyle of professional gamers while they are competing against each other. 
With nine episodes to watch, you will certainly enjoy one of the best gaming documentaries out there.
Watch The Smash Brothers here.
League of Legends Origins
"Academy Award-nominated Director Leslie Iwerks explores the history of the community that has made League of Legends one of the most-played PC games in history."
Are you a big fan of League of Legends? Then watching this documentary is almost a must.
In the documentary, you will learn how League of Legends went from being a development project by a small team to becoming one of the most popular games in the world loved by millions.
You will also learn how the developers created the original characters of the game, how new champions ones born, and the thinking process behind the map and aesthetics of the game.
Watch League of Legends Origins on Netflix.
High Score
"Traces the history of classic video games, featuring insights from the innovators who brought these worlds and characters to life."
Want to know what it took for the game developers to create the first video games ever to exist? Then Netflix's High Score documentary could be a great one to watch for you to binge watch.
In the documentary, you will learn about problems developers faced to create functional games meant to entertain. Game development hasn't always been a straightforward process, even though we take much of it for granted today.
You will also learn more about classic games like Pac Man and Doom, which were the earliest best-selling games. Both games are still revered today as two of the most iconic game titles in gaming history.
Watch High Score on Netflix.
GameChangers: Dreams of BlizzCon
"In 1998, a single video game forever changed the world. The game was StarCraft. It would go on to become the foundation of esports and the force behind the online streaming medium Twitch."
StarCraft is one of the game titles that changed the gaming industry forever. It was one of the first games to start competitive gaming via BattleNet, and the release of StarCraft II in 2010 kicked things up a few levels higher.
BlizzCon is today one of the most significant gaming events in the world. Every professional player, including StarCraft players, dreams of playing in this competition, where they get a chance to earn millions of dollars in prize money.
The documentary mainly focuses on South Korean players and their need to change the gaming world before it's too late.
Watch GameChangers: Dreams of BlizzCon here.
All Work All Play
"This is a documentary about the life and struggle of people for becoming professional gamers."
It might seem as though the life of an average professional gamer is easy, but it doesn't come without struggles.
Even the best players in the world have their problems in their personal lives. This documentary offers a fascinating insight into the life of an average professional gamer.
Watch All Work All Play on Netflix. 
Best Video Game Addiction Documentaries
If you're interested in watching documentaries about video game addiction, then these titles might interest you.
Game Over: The Story of Cam Adair
In 2018, the World Health Organization recognized Gaming Disorder as a mental health disorder. 
In the documentary called Game Over, you'll learn about the story of Cam Adair, the founder of Game Quitters. It's an inspirational story of overcoming gaming addiction that will give you hope that anyone can succeed.
You'll see that there is life beyond just gaming, and discovering a life that's worth living is entirely possible. Even if you play 12-16 hours a day as Cam did at one point in his life, it's possible to stop this destructive behavior with a little bit of effort.
Hooked: A W5 Investigation by CTV
Video games are so compelling because they are designed to hook players. Unfortunately, even though there are benefits of playing video games, the potential negative consequences far outweigh them.
Video game addiction is impacting millions of young people around the world. And with the pandemic, the number of people addicted to video games has risen to new heights. The documentary examines video game addiction and its consequences on people and communities.
Silent Addiction
This video game addiction documentary focuses on the need to recognize gaming addiction as a global mental health problem.
One of the main concerns about video gaming addiction is that it's brushed away and not taking seriously, even by mental health professionals. Many addicted players also don't want to talk about it. That's why it's called a silent addiction.
Silent Addiction is a documentary that will open your eyes to the importance of talking about gaming addiction and dealing with it as openly as possible.
Learn more about how gaming impacts the lives of people worldwide by reading our video game addiction stories.